Robert Ortner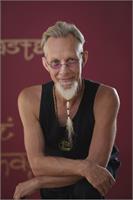 Robert's approach to the art and science of yoga begins with the phrase "We are our own best teachers." One does not just do yoga, one becomes yoga; it is a lifelong journey that anyone can make. He offers classes and programs that work with the whole person, from gentle conditioning and beginner classes to more traditional vinyasa and high-energy yoga for strength and endurance. Robert balances the need for both strength and flexibility, stress reduction (aka surviving modern life) and meditation, along with breath work and inner quiet. He draws from an interdisciplinary yoga background, and blends different styles and techniques that allow the body to open and expand throughout its entire range of motion. Providing a strong foundation in yogic essentials, as well as an encouraging and up-beat learning environment that allows each student to practice safely and at their own pace. Come have some FUN!
* ERYT-500 Yoga Teacher certification with Don and Amba Stapleton; www.nosarayoga.com
* IYT-Integrative Yoga Therapist training with Joseph Le Page; www.iytyogatherapy.com
* Yoga of the Heart, yoga therapy training with Nischala Joy Devi, the former director of Yoga for the Dr. Dean Ornish Heart Program for Reversing Heart Disease and co-founder of the Commonweal Cancer Help Program; www.abundantwellbeing.com
* Thai Yoga Bodywork certification with Jonas Westring; www.shantaya.org * Pilates Mat Certification at the PhysicalMind Institute.
* Integrated Positional Therapy training with Lee Albert
Robert Ortner instructs the following: