Deborah Swann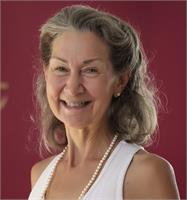 Deborah Swann E-RYT-500 is a yogaspirit® certified Yoga and Meditation Teacher who embraces these ancient traditions as healing arts. Deborah's teaching style expresses deep respect and care for each student and she is dedicated to the enhancement of their wellbeing and health by engaging body, mind and spirit. Her unique attunement with nature and the universal rhythms of life create a deep sense of connection for students and an integrated experience of holistic health.
Deborah's classes focus on creating a physical foundation of alignment and stability so that energetic expansion and freedom are a natural result.
Deborah's calming energy creates a sacred space for each student to come into greater clarity about their personal healing journey and their innate potential to live fully. Through the practices of yoga and meditation, she helps people embrace their life to live with greater health, happiness, and peace of mind while reconnecting to their inner source of strength and compassion.
Deborah Swann is currently not instructing any classes.