Melissa Barry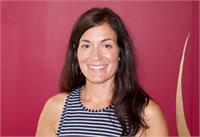 Melissa's warmth and heartfelt approach to teaching radiates through her classes. Rooted in Kripalu yoga, she encourages an interplay and synthesis of body, mind and energy through creative flows. Melissa's classes are rich with metaphor to make yoga philosophy relevant to today's practitioner on and off the mat. Using her background in education and continued personal practice, she excels at meeting each practitioner where they are today. Melissa also teaches prenatal yoga, is a birth doula and an affiliate of The Art of Yoga Project.
Melissa Barry instructs the following:
This yoga class is open to new and experienced students. It includes a centering, stretches, asanas (yoga postures) standing, sitting and lying down, with explanations of how to come in and out of postures. There is attention to breathing and alignment of the body. Students generally feel inner peace, relaxation, and a sense of renewal from this class.




Based in vinyasa yoga, movement is synchronized to the breath. This style allows for variety: sitting, balancing, inversion or lying down. It will usually include one or more of the sun salutation series and will build heat with both movement through and holding of poses. Open level; some yoga experience recommend.




Mixed level yoga class. Options are offered for different levels. Beginners are better off in Gentle or Level 1.