Johanna Garvey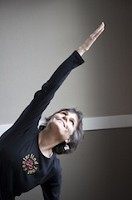 Johanna Garvey, RYT-200, began her yoga journey in 2005 at Yoga for Everybody in Fairfield, CT. She received her 200-hour certification from Kim Valeri's Yoga Spirit Studios® in 2009. A native Californian, she brings to her yoga practice her experience in ballet and jazz dance, as well as synchronized and competitive swimming, and infuses her form-and-flow classes with movement and joy. She is attentive to students' needs, while also creating a safe environment and community atmosphere in her classes. She has taken trainings with Ana Forrest, Desiree Rumbaugh, Todd Norian, Kamini Desai, Koby Kozlowski, Beth Gibbs, and many others, and is in the middle of her 500-hour training. Johanna is also a professor of literature at Fairfield University.
Johanna Garvey instructs the following:



Gentle Yoga is a class structured around rejuvenating and healing the body. Yoga props such as blankets, blocks, bolsters, chairs and straps are often used for safe practice, and to allow the body to fully achieve each position comfortably. This class is held at a slower pace and focuses on stretching all areas of the body, while releasing stress and tension from joints and muscles. Often restorative poses are practiced as well. This class is a good option for beginners.