Mary Green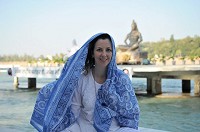 Mary Green/Dharamdhyan Kaur, RYT-500, is a K.R.I certified Level One and Level Two Kundalini Yoga Teacher and a member of IKYTA. She trained with Gurmukh Kaur Khalsa in India, and returns there often to deepen her practice. Mary believes in Kundalini yoga's transformative power—that you can see the world through new eyes from the very first class. Her goal is for others to experience the joy of knowing the True Self. Through her humorous and supportive style, Mary helps people of all abilities to open their hearts, strengthen their bodies and heal their nervous systems from the stresses of the times. Mary is also an investment professional, writer, corporate stress management advocate and a mother to three boys. Mary's spiritual name is Dharamdhyan Kaur, one who fearlessly treads the righteous path in constant remembrance of the Infinite. She looks forward to treading the path with you.
Mary Green instructs the following:
A typical class begins with chanting, ends with singing, and in between features asana, pranayama, and meditation designed to create a specific outcome. Expect to encounter challenging breathing exercises, including the rapid pranayama known as Breath of Fire, mini-meditation, mantras, mudras (sealing gestures), and movement-oriented postures, often repeated for minutes, that will help you find and possibly surpass what you consider your edge, all to your current capacity. The focus is on lasting rather than going deep. Hatha yoga postures or asanas are secondary. No hands-on assists are given in Kundalini, and there are no levels such as introductory or advanced.




Following a longstanding tradition in the global Kundalini community, on the occasion of Yogi Bhajan's birthday (Sunday, August 26th) we will gather together in the early hours of the morning and chant the Adi Shakti Mantra (a.k.a Long Ek Ong Kar's or Morning Call) continuously for 2 1/2 hours. We will complete this special sadhana by chanting the Guru Ram Das chant for 11 minutes. Kundalini Yogis all over the world will be participating in this powerful meditative experience.

Agenda:

3:15am doors open

3:30am sharp Long Ek Ong Kar Chant

6:00am Guru Ram das Chant

6:15am Long Time Sun

This is a free event that we hope you will join in! If you are thinking of bringing a friend please know they are always welcome, however, this practice is not recommended for those who are newer to the Kundalini Practice. There will be no movement and the chant can be challenging as it is maintained for 2 1/2 hours.

Enjoy Yogi Tea and light snacks after the sadhana!