Julie Moffat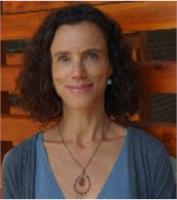 Julie Moffat is a teacher of Qigong, sound healing and meditative movement. Her passion is to share the powerful and transformative practices of Qigong with people of all ages and show them how to create new pathways of internal and external health. It brings her great joy to help others learn ways to take their health into their own hands. Nurturing ourselves through Qigong, we surrender to the preciousness of the present and our own presence. She teaches simple but powerful ways for people to improve their health by lessening anxiety, stress, sadness and learning to let go of daily frustrations.
Julie holds certifications from the Institute of Integral Qigong and Tai Chi, Radiant Lotus Women's Qigong and Organ Cleansing Qigong. She has studied with many international teachers including Daisy Lee, Francesco Garri Garripoli, Roger Jahnke, Master Kenneth Cohen, Robert Peng, Dr. Yang Yang, Master Sat Cheun Hon, Solala Towler and teachers from the Chinese Health Qigong Association. Julie also has a MA in Art History, Archives & Museum Studies.
Julie Moffat instructs the following:
Qigong Meditation works on a deep level of vibration with the inside of the body: the organs, cells, bones, as well as the breast, reproductive and hormonal systems. Qigong sound healing is like chanting a soft lullaby to the internal make-up of our bodies. When we chant these sounds we facilitate the breakup of stagnant qi and infuse the body with vitality and fresh energy. Repressed emotions within the body will come out when chanting these sounds on a regular basis.