Checka Antifonario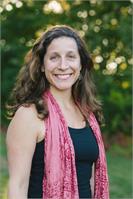 Checka Antifonario is a Lead Trainer for Radiant Child Yoga as well as the founder of Yogaway Retreats. Over ten years ago, she left the corporate world to teach yoga full-time, and hasn't looked back since. Known for her open-heartedness and easy laugh, Checka (E-RYT, RCYT) is deeply committed to maintaining a welcoming and inclusive space for practice and community in any setting, from teacher trainings to weekly classes to retreats around the globe.
Checka has taught yoga and meditation to thousands of children and adolescents in schools, studios, homes, and adolescent revocation and rehabilitation centers over the past decade. She strives to awaken and nurture mind-body awareness in her young students, and empower them with tools to manage stress and tension in their lives off the mat. As a Radiant Child Yoga Lead Trainer, it is a privilege and joy for her to help aspiring instructors build their skill sets, find their voices as teachers, and move forward into work that they love. Over the past few years, Checka has also dedicated herself to cultivating a specialty in mindfulness and meditation for children and recorded two albums of original children's meditations with Shakta Khalsa.
As a Vinyasa and Hatha teacher for adults, Checka offers mindful and safe sequencing along with compassionate and skilled assists. She equally enjoys the quiet and healing element of more reflective, restorative yoga, and offers the loving-kindness of Reiki energy work to enrich these classes. She is passionate about being in nature and spending time with her pups, and considers herself equal parts home body and travel nut. With a deep connection to Hawaii, where her yoga journey began, Checka strives to bring her Aloha Soul approach to life with her wherever she goes! Please visit www.checkayoga.com for more info.
Checka Antifonario is currently not instructing any classes.