Michelle O'Brien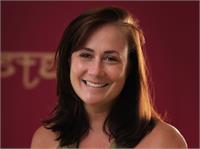 After years of playing competitive sports, running marathons and competing in Triathlons, Michelle's body was quite literally braking down. She had numerous injuries and experienced pain everyday when by a fluke yoga came to her. For the first time in decades, she found a space to feel at home in her body and felt a reconnection to her heart and soul. Michelle completed her 200-hr teacher training through YogaWorks in CA and her Aerial Teacher Training through Fly Yoga. Her flow classes focus on the use of breath to find space and depth in postures. She emphasizes proper alignment and smart sequencing to eases her students into transformative spaces. By creating a safe and supportive environment, she encourages her students to explore, excavating and re-align with their perfect self - the person they truly are at their core. She is proud to be a member of Off the Mat Into the World, an organization of yogis that cultivates and fosters awareness and consciousness in ourselves, our community and around the world. Michelle is honored for the opportunity to share with her students the blessings and inspiration that yoga has awakened in her life.
Michelle O'Brien instructs the following:
In this style of yoga, movement is synchronized to the breath. This style allows for a lot of variety: sitting, balancing, possible inverting, or lying down. It may also include one or more of the salutations (sun A, Sun B, Sun C, or moon). The Teacher will cue you to move from one pose to another using an inhale or exhale. Modifications are always offered with the opportunity to cue up to more challenging poses if desired. Prior yoga experience is recommended.




Vigorous Flow Yoga involves synchronizing breath with a progressively more difficult series of linked poses or postures. Combined, this energizing and dynamic series of yoga poses offer a practice that increases core stability, strength, flexibility and endurance. The hallmarks of this spirited practice are the strong focus on core and the steady breathing that connect one pose to the next. You will leave class feeling energized and realize you have experienced all the elements of a practice that is a vigorous workout and a constant steady moving meditation.