Pam Muir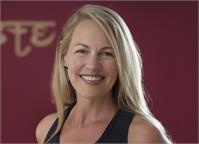 Pam Muir, RYT - 200 is a certified Kripalu yoga teacher. She has deep gratitude for the practice of yoga and lives in constant amazement of its limitless offerings. In her classes, Pam encourages students to celebrate and explore the uniqueness of their own practice, to have compassion for themselves, and to have fun while connecting body, breath, and mind. Pam is also a fiction writer and lives in Fairfield.
Pam Muir instructs the following:
Your facilitator will guide you through a meditation that lasts for 30 minutes. Dive inside and calm the nervous system




Yoga Nidra is a profound, deceptively simple and scientifically based tool for physical, mental and emotional relaxation. Through the use of specific guided visualizations the practitioner is able to enter a state of deep rest and penetrate the otherwise inaccessible recesses of the mind. Systematic relaxation of the body and senses through the use of guided visualization allows the individual practicing Yoga Nidra to move with consciousness into the sub-conscious and unconscious realms and open up the possibility of releasing the ingrained patterns that bind us and cause our suffering. NO EXPERIENCE NEEDED.




Yin Yoga is a slow-paced style of yoga with postures or asanas that are held for approximately 3-5 minutes each.

Yin Yoga poses apply moderate stress to the connective tissues—the tendons, fascia, and ligaments—to foster optimum lubrication, range of motion and vitality in the body as a whole. Yin Yoga is intended as a supplementary practice to balance the effects of more active forms of yoga and exercise.

Appropriate for all levels.