Pam Muir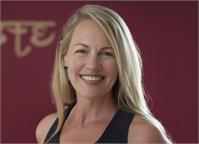 Pam Muir, RYT - 200 is a certified Kripalu yoga teacher. In addition to her 200 hour training, she has completed the I AM Yoga Nidra™ 100 hour Professional Training, studied Restorative Yoga with Sudha Carolyn Lundeen, and is in the process of completing her 500 hour yoga teacher certification. Pam has deep gratitude for the practice of yoga, and lives in constant amazement of its limitless offerings. In her classes, Pam encourages students to celebrate and explore the uniqueness of their own practice, to have compassion for themselves, and to have fun while connecting body, breath, and mind. Pam is also a fiction writer and lives in Fairfield.
Pam Muir instructs the following:
This class has limited space so pre-registration online is a good idea. This yoga practice is extremely gentle and is suitable for everybody, the new student up to the advanced practitioner. Using breathing techniques and guided visualization, the body is supported by blankets, blocks, bolsters and straps in a series of postures intended to allow deep relaxation. This style of yoga addresses mental & physical stress, fatigue and tension while revitalizing the body.




We like to think of this as the "best of both worlds."This is a 60 minute class that combines a Level 1 yoga practice with Yoga Nidra (Conscious Sleep/deep guided meditation). All levels are welcome.In the first part of the class, you are led through a series of postures (asanas) and breath work (pranayama) in a manner where lots of instruction is given, and the pace is moderate. More challenging variations of postures are offered, but absolutely are NOT required. This movement prepares you for. . .In the second part of the class, you are guided through a Yoga Nidra. Yoga Nidra is a profound, deceptively simple and scientifically based tool for physical, mental and emotional relaxation. Through the use of specific guided visualizations the practitioner is able to enter a state of deep rest and penetrate the otherwise inaccessible recesses of the mind.




A 30 minute donation based ($5 suggested) Yoga Nidra (a guided, deep meditation).




Gentle (Kripalu) This yoga class is a gentler version of the Level 1. It is a Kripalu-inspired, meditative class with longer holding for a deep, "in-body" experience. Lots of silence to enhance the peaceful nature of yoga. Emphasis on breath, trusting the body's wisdom and Eastern philosophy. If you have issues with blood pressure, knees, shoulders, or other joints, this might be a better class for you than Level 1, and it is a good starting point for a new person.