Pam Muir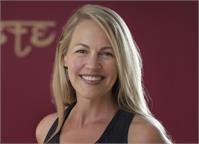 Pam Muir, RYT - 200 is a certified Kripalu yoga teacher. In addition to her 200 hour training, she has completed the I AM Yoga Nidra™ 100 hour Professional Training, studied Restorative Yoga with Sudha Carolyn Lundeen, and is in the process of completing her 500 hour yoga teacher certification. Pam has deep gratitude for the practice of yoga, and lives in constant amazement of its limitless offerings. In her classes, Pam encourages students to celebrate and explore the uniqueness of their own practice, to have compassion for themselves, and to have fun while connecting body, breath, and mind. Pam is also a fiction writer and lives in Fairfield.
Pam Muir instructs the following:
This class combines the complimentary modalities of guided meditation (Yoga Nidra) and sound-based meditation (Gong) to facilitate restorative effects on both mind and body. The meditation begins with Yoga Nidra, to draw awareness inward, promote relaxation, and shift brainwaves to lower states similar to those experienced in sleep. The sound and vibration of the Gong are then introduced to promote gentle energetic shifts and clearing. Benefits include: reduced stress and anxiety, improved sleep, lower blood pressure, improved mood and well-being and a heightened sense of awareness and mindfulness. This class is open to all. Beginners welcome.




The best of both worlds, this class combines a Level 1 yoga practice with Yoga Nidra (guided meditation). The class begins with pranayama (breath work) combined with a series of asana (postures) at a slow to moderate pace with attention to alignment of body, use of props, and explanations of how to come in and out of postures. More challenging variations of postures are offered for the more experienced student. The movement practice prepares you for Yoga Nidra, a guided meditation that brings the practitioner into a deep rest for physical, mental and emotional relaxation.




Develop a foundational knowledge of postures and practices as instructor focuses on attention to physical alignment, use of props, breath-work and explanations of how to come in and out of postures at a slow to moderate pace. More challenging variations of postures are offered for more experienced students. This class is accessible to students from beginner to advanced practitioner.