Pam Muir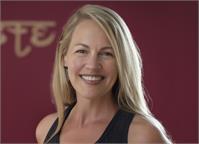 Pam Muir, RYT - 200 is a certified Kripalu yoga teacher. She has deep gratitude for the practice of yoga and lives in constant amazement of its limitless offerings. In her classes, Pam encourages students to celebrate and explore the uniqueness of their own practice, to have compassion for themselves, and to have fun while connecting body, breath, and mind. Pam is also a fiction writer and lives in Fairfield.
Pam Muir instructs the following:
Gentle (Kripalu) This yoga class is a gentler version of the Level 1. It is a Kripalu-inspired, meditative class with longer holding for a deep, "in-body" experience. Lots of silence to enhance the peaceful nature of yoga. Emphasis on breath, trusting the body's wisdom and Eastern philosophy. If you have issues with blood pressure, knees, shoulders, or other joints, this might be a better class for you than Level 1, and it is a good starting point for a new person.




We are constantly being vibrated, on a cellular level, by heard and unheard frequencies. Sound has a tremendous influence over human functionality. Sound is vibration that causes resonance and rhythm in our bodies, touches us and influences our emotions like no other source of input or expression. Due to the demands of our daily lives, the increase in stress related disease in modern society is of little wonder. Stess, which might be defined as "an over ramping of the nervous system" has many contributors. Many external influences have a proven effect on our well being…and so do the sounds of a gong bath. The Gong is one of man's oldest therapeutic instruments, and is used in yoga, sound meditation and vibrational therapy from the distant past to present. A gong bath meditation is an ideal tool for stress reduction, stimulation of the glandular system and serves as a facilitator to break up emotional, physiological and spiritual blockages. Sound and music are nutrients for the nervous system. The auditory mechanism s a mega-portal to the brain and sonic tools empower health, learning and productivity. Due to its nature, the Gong resonates all cells of the body simultaneously in a most powerful and effective way. The goal, in all healing, mediative spiritual and transformational pursuits is to raise and individuals frequency and thereby changing a person's nature of being, restoring and intrinsic state of balance. This class will start with a breathing technic followed by the gong meditation.




Yin Yoga is a slow-paced style of yoga with postures or asanas that are held for approximately 3-5 minutes each.

Yin Yoga poses apply moderate stress to the connective tissues—the tendons, fascia, and ligaments—to foster optimum lubrication, range of motion and vitality in the body as a whole. Yin Yoga is intended as a supplementary practice to balance the effects of more active forms of yoga and exercise.

Appropriate for all levels.




Yoga Nidra is a profound, deceptively simple and scientifically based tool for physical, mental and emotional relaxation. Through the use of specific guided visualizations the practitioner is able to enter a state of deep rest and penetrate the otherwise inaccessible recesses of the mind. Systematic relaxation of the body and senses through the use of guided visualization allows the individual practicing Yoga Nidra to move with consciousness into the sub-conscious and unconscious realms and open up the possibility of releasing the ingrained patterns that bind us and cause our suffering. NO EXPERIENCE NEEDED.