Devarshi Steven Hartman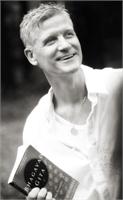 Devarshi Steven Hartman, E-RYT, is the dean of the Pranotthan Yoga Guild, faculty member of Nosara Yoga Institute's Advanced Yoga Teacher Training Curriculum, senior Kripalu Yoga teacher trainer, and former dean of The Kripalu School of Yoga. He has been a student and teacher of yoga and yoga philosophy since 1974, was a longtime Kripalu Ashram resident, and has dedicated his life to the study and practice of the art and science of yoga. Devarshi is author of the best selling audio series The Essence of the Bhagavad Gita and the new DVD Vigorous Kripalu Yoga. Founder of LifeQuest Intensive, Co-Founder of Acharya Intensive, and teacher of A Course in Miracles, Devarshi also maintains a private practice in bodywork and spiritual coaching in Becket, MA.
Devarshi Steven Hartman is currently not instructing any classes.