Sophie Herbert Slater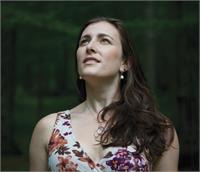 Sophie was introduced to yoga as a teen and immediately drawn to the practice's ability to encourage greater physical and mental resilience. While at the Cooper Union, her love of yoga, photography, and adventure led her to India. After graduating, she returned to India to complete her 200hr and advanced teacher training courses. Sophie loves teaching students of all levels and has done so in CT, NYC, Kazakhstan, Italy, and at the Deenabandhu Trust Children's Home in Karnataka, India. Her sessions offer a safe processing ground for students to explore and nurture their body, mind, and spirit. The extensive time Sophie spent in India nurtured a passion for giving back. She's a firm believer in the cumulative power of small positive gestures and seeks to incorporate social activism into her work whenever possible. She feels grateful to visit and volunteer regularly at the Deenabandhu Children's Home.
In addition, Sophie is a graduate of the Masters of Arts in Art Therapy and Counseling from Albertus Magnus College who is presently working towards her national registration as an art therapist and CT licensure as a professional counselor. She runs the art therapy program for Sheraton Caregivers, an organization passionate about improving the lives of seniors and individuals with disabilities. Sophie is also an adjunct professor at Albertus Magnus, where she teaches the Writing and Research in the Social Sciences course for the Masters of Human Services program. In addition to her training as a mental health professional and artist, Sophie is a certified life coach. She is passionate about helping her clients find greater insight, purpose, and wellbeing through the incorporation of creative expression and mindful awareness into the therapeutic process.
Sophie Herbert Slater is currently not instructing any classes.