Hari Kaur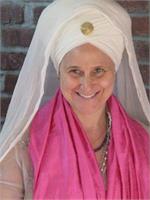 Hari Kaur: Director and Founder of Hari NYC – Kundalini Meditation and Jazz - directs and teaches Kundalini Classes and Teacher Trainings in the US and abroad. Hari is co-author of "A Woman's Book of Yoga: Embracing Our Natural Life Cycles" (Penguin 2002) and author of "A Woman's Book of Meditation: Discovering the Power of a Peaceful Mind" (Penguin 2006). Hari is part of the generation of senior teachers in the US whose dedication to teaching created the movement that integrated yoga into modern life.
For ten years Hari served with Kundalini Master Yogi Bhajan, directing his Teacher Trainings in New Mexico and India. A master kundalini teacher, Hari has taught thousands of students from all backgrounds over the past 25 years and has directed over 50 Teacher Training courses, as well as sharing Kundalini in hospitals and schools. Hari has received numerous service awards from International Association of Kundalini Yoga Teachers, and was a founding board member of Yoga Alliance representing Kundalini Yoga – the national registry maintaining standards for yoga teachers. Hari is a caring, inspiring, and down to earth teacher, making the powerful and healing teachings of Kundalini Yoga as taught by Yogi Bhajan accessible to students of all levels. Inspired by years of study with Yogi Bhajan, Hari continues to serve all who come with smiles, and spirit.
Married to jazz musician Dave Frank, Hari and Dave make their home in New York City bringing music and kundalini to uplift the spirit.
Hari Kaur is currently not instructing any classes.