John Vosler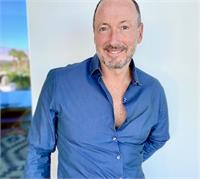 As a Senior Teacher at the Amrit Yoga Institute leading Yoga Nidra Certification programs and an Integrative Restoration Institute Certified iRest Teacher, John Vosler teaches internationally, leading trainings and retreats on the profound healing benefits of the ancient meditation practice of Yoga Nidra. A graduate of the highly acclaimed Institute of Psycho Structural Balancing, his lifelong education in the field of holistic healthcare includes a BA in human development, the study of Applied Kinesiology at the Kinesiology Institute, and programs in CranioSacral and SomatoEmotional Release Therapy at John Upledger's Upledger Institute International. With a strong background in anatomy, functional movement and body mechanics, his private bodywork, yoga, and pilates practice has been thriving in Los Angeles for twenty years.
Read more at www.johnvosler.com
John Vosler is currently not instructing any classes.