Morgan Cleveland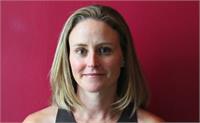 Morgan Cleveland, RYT-200, has studied Yoga on and off the mat for 15 years. Morgan believes Yoga offers a gift for the mind and body, and an opportunity to practice being in the present moment. On a lifelong journey to be her best self, Morgan returns to the mat to find her center and use the tools of yoga in everyday challenges and obstacles. Through linking breath work, meditation and movement, Morgan's classes help students, of all levels, create awareness of body, breath and mind and honor their own unique and authentic practice.
Morgan Cleveland instructs the following:
This yoga class is open to new and experienced students. It includes a centering, stretches, asanas (yoga postures) standing, sitting and lying down, with explanations of how to come in and out of postures. There is attention to breathing and alignment of the body. Students generally feel inner peace, relaxation, and a sense of renewal from this class.