Wiebke Wanner-Borchardt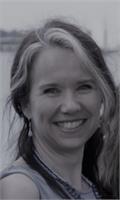 Wiebke Wanner-Borchardt, RYT-200 Wiebke is a certified Kripalu Yoga teacher, a Reiki Master and a restorative yoga teacher (Level 1 training with Sudha Lundeen). Wiebke credits a regular yoga practice with greater body awareness, which she believes will lead to a healthier and happier life off the mat. Her teaching is guided by her desire to make yoga available to everybody and to support people on their path to wholistic wellness; wellness of the body and mind. Wiebke started her yoga practice with Bikram yoga and enjoys an energizing, vigorous vinyasa flow. In her classes, she mindfully weaves poses together, invites students to coordinate breath and movement, and always reminds her students to listen to their body, their teacher within. Independent of class level, she encourages students to adapt the pose to their unique body and not to adapt their body to the pose.
Wiebke Wanner-Borchardt instructs the following:
Based in vinyasa yoga, movement is synchronized to the breath. This style allows for variety: sitting, balancing, inversion or lying down. It will usually include one or more of the sun salutation series and will build heat with both movement through and holding of poses. Open level; some yoga experience recommend.