Amarjot/Anne Donovan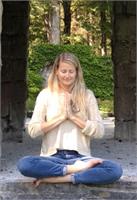 Amarjot Kaur (Anne Donovan) is a KRI level 1 certified Kundalini Yoga instructor, CTI certified Life Coach, a level 2 Shamballa Multi-Dimensional Healing, and an Enthusiastic Student of Life. From her first kundalini class, she knew she had found a complete yoga practice that both uplifted and grounded her and life began to change in the most positive ways. Through this yoga she finally found a healthy and effective way to manage anxiety that plagued her daily life.
As a teacher Amarjot strives to create a space for people to find what they need to stay strong, connected, and balanced. Her classes encourage students to go within and bring a gentle presence to and acceptance of who they are. She believes it is from this empowered space that we are able to joyfully share our innate gifts with the world.
Amarjot gains an incredible amount of inspiration and wisdom from her teachers Siri Bani Kaur, Mahan Rishi Singh Khalsa, and Nirbhe Kaur Khalsa.
Amarjot/Anne Donovan instructs the following:
Your facilitator will guide you through a meditation that lasts for 30 minutes. Dive inside and calm the nervous system




A typical class begins with chanting, ends with singing, and in between features asana, pranayama, and meditation designed to create a specific outcome. Expect to encounter challenging breathing exercises, including the rapid pranayama known as Breath of Fire, mini-meditation, mantras, mudras (sealing gestures), and movement-oriented postures, often repeated for minutes, that will help you find and possibly surpass what you consider your edge, all to your current capacity. The focus is on lasting rather than going deep. Hatha yoga postures or asanas are secondary. No hands-on assists are given in Kundalini, and there are no levels such as introductory or advanced.