Renk Kocturk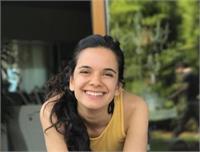 Renk Kocturk spent most of her life in Fairfield County and New York City. For the past 3 years she worked as a yoga and movement therapist in Turkey & Syria. After graduating from The New School with a degree in Dance and Psychology, she continued her studies with Elissa White, one of the pioneers of dance therapy. She has incorporated her love of movement, breath, and yoga to create her own movement meditation practice.
Aside from being a professional dancer and a movement therapy practitioner, Renk Kocturk is a certified alignment yoga instructor, children's yoga instructor, and a yoga therapist. She has worked with children and adults of all ages, backgrounds, and abilities. She has taught around the United States, South East Asia, and the Middle East.
Renk's workshops consist of breath work, yoga therapy centered around healing specific topics (stress, menstruation, digestion, immune system, injury, chronic pain), mixed with movement therapy focusing on empowering movement, authentic movement, and healing trauma through improvisational dance.
Renk Kocturk instructs the following:
In this class we will explore free movement to reconnect with our authentic selves. By incorporating both movement & yoga therapeutic practices we will tap into our freedom of expression and self-discovery. Starting with a slow, therapeutic yoga practice we will lead into both structured, and free improvisational movement. Classes may focus on topics such as, stress, the heart, grounding, self-love, empowerment, balance, and or release. By creating a safe space for our nervous system, we will release blockages in both body, and mind. Finding a deeper connection to your heart, and your community. All movement is accepted, judgment is not.