Joy LeVine Abrams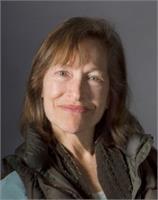 Joy LeVine Abrams, MS, RYT, is a certified Kripalu Yoga instructor and has been teaching yoga since 1995. Joy is co-creator of THE FLEXIBLE PAINTER, an art and yoga retreat in Madison, CT and Tuscany. She has an M.S. in Biology and Nutrition. Joy feels her most profound learning came from her nine years of hospice work as Director of Volunteers. She is currently teaching the 8 week Mindfulness Based Stress Reduction Program.
Joy LeVine Abrams instructs the following:
Gentle (Kripalu) This yoga class is a gentler version of the Level 1. It is a Kripalu-inspired, meditative class with longer holding for a deep, "in-body" experience. Lots of silence to enhance the peaceful nature of yoga. Emphasis on breath, trusting the body's wisdom and Eastern philosophy. If you have issues with blood pressure, knees, shoulders, or other joints, this might be a better class for you than Level 1, and it is a good starting point for a new person.