Ariadne Drakonakis-Kambas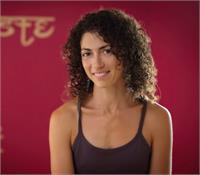 Ariadne is a certified Kripalu yoga teacher and has been teaching since 2003. She is also a licensed massage therapist, occupational therapist, is certified in Prenatal/Postnatal Yoga and Massage Therapy and is midway through her 500 hour advanced yoga teacher training. Ariadne weaves yoga postures, breathwork and meditation into her classes as a means of cultivating presence and nonjudgmental self- awareness. Ariadne's classes remind us to ride the waves of our life with compassion, and to allow life to flow through us with ease and grace. She believes the practice of yoga awakens the natural intelligence of the body-mind- heart- and spirit thereby guiding us towards more compassionate choices for ourselves, our families, our community and our planet.
Ariadne Drakonakis-Kambas instructs the following:
Gentle (Kripalu) This yoga class is a gentler version of the Level 1. It is a Kripalu-inspired, meditative class with longer holding for a deep, "in-body" experience. Lots of silence to enhance the peaceful nature of yoga. Emphasis on breath, trusting the body's wisdom and Eastern philosophy. If you have issues with blood pressure, knees, shoulders, or other joints, this might be a better class for you than Level 1, and it is a good starting point for a new person.