Lauren Lanham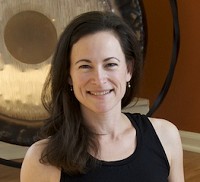 Lauren is a passionate yoga teacher dedicated to sharing this transformational practice. She strives to create safe spaces where everyone can explore what yoga means to them. Lauren thinks it's fun to talk about anatomy, postural alignment and technique. She believes that yoga helps us to know our own story and be present as life unfolds. Lauren has been practicing for over 20 years and holds teacher certifications in Yoga, Meditation and Reiki.
Lauren Lanham instructs the following:
Core classes are designed to expand your strength, stamina and flexibility. Expect possible arm balances, inversions, backbends as well as challenging sequences.




Mixed level yoga class. Options are offered for different levels. Beginners are better off in Gentle or Level 1.




This class is for students who have taken at least 6 months of level 1&2 and are ready to take their practice to the next level. More challenging poses and inversions offered.

Short Meditation may be offered at the end of class.




Yoga Nidra is an ancient form of meditation that will take you into the deepest levels of relaxation while still remaining fully aware. It is practiced lying down in savasana (on your back, in corpse pose). Yoga Nidra induces complete physical, mental, and emotional relaxation. Yoga Nidra helps to reduce the tensions that create stress, disease and unhappiness. Those tensions are physical tensions, emotional tensions, and mental tensions. You are guided through a series of meditations and visualizations.




Yoga Nidra is a profound, deceptively simple and scientifically based tool for physical, mental and emotional relaxation. Through the use of specific guided visualizations the practitioner is able to enter a state of deep rest and penetrate the otherwise inaccessible recesses of the mind. Systematic relaxation of the body and senses through the use of guided visualization allows the individual practicing Yoga Nidra to move with consciousness into the sub-conscious and unconscious realms and open up the possibility of releasing the ingrained patterns that bind us and cause our suffering. NO EXPERIENCE NEEDED.