Evelyne Serais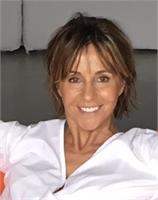 Evelyne Serais (owner of Y4E) is a certified Kripalu yoga teacher, with 500 hour Certified advanced teacher training from the Amrit yoga institute where she also studied the "forgotten art" of Yoga Nidra. She completed her Kundalini teacher training in 2010 with Gurmukh Kaur Khalsa. She is also a certified Traditional Thai Yoga body worker, practicing since 2004 and continuing that exploration by studying that healing art with diverse teachers from around the world.
Evelyne Serais instructs the following:
A typical class begins with chanting, ends with singing, and in between features asana, pranayama, and meditation designed to create a specific outcome. Expect to encounter challenging breathing exercises, including the rapid pranayama known as Breath of Fire, mini-meditation, mantras, mudras (sealing gestures), and movement-oriented postures, often repeated for minutes, that will help you find and possibly surpass what you consider your edge, all to your current capacity. The focus is on lasting rather than going deep. Hatha yoga postures or asanas are secondary. No hands-on assists are given in Kundalini, and there are no levels such as introductory or advanced.




Mixed level yoga class. Options are offered for different levels. Beginners are better off in Gentle or Level 1.




Yoga Nidra is an ancient form of meditation that will take you into the deepest levels of relaxation while still remaining fully aware. It is practiced lying down in savasana (on your back, in corpse pose). Yoga Nidra induces complete physical, mental, and emotional relaxation. Yoga Nidra helps to reduce the tensions that create stress, disease and unhappiness. Those tensions are physical tensions, emotional tensions, and mental tensions. You are guided through a series of meditations and visualizations.




Following a longstanding tradition in the global Kundalini community, on the occasion of Yogi Bhajan's birthday (Saturday, August 26th) we will gather together in the early hours of the morning and chant the Adi Shakti Mantra (a.k.a Long Ek Ong Kar's or Morning Call) continuously for 2 1/2 hours. We will complete this special sadhana by chanting the Guru Ram Das chant for 11 minutes. Kundalini Yogis all over the world will be participating in this powerful meditative experience. Agenda: 3:15am doors open 3:30am sharp Long Ek Ong Kar Chant 6:00am Guru Ram das Chant 6:15am Long Time Sun This is a free event that we hope you will join in! If you are thinking of bringing a friend please know they are always welcome, however, this practice is not recommended for those who are newer to the Kundalini Practice. There will be no movement and the chant can be challenging as it is maintained for 2 1/2 hours.

Enjoy Yogi Tea and light snacks after the sadhana!