Evelyne Serais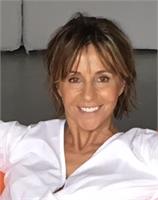 Evelyne Serais is a certified Kripalu yoga teacher, with 500 hour Certified advanced teacher training from the Amrit yoga institute where she also studied the "forgotten art" of Yoga Nidra. She completed her Kundalini teacher training in 2010 with Gurmukh Kaur Khalsa. She is also a certified Traditional Thai Yoga body worker, practicing since 2004 and continuing that exploration by studying that healing art with diverse teachers from around the world.
Evelyne Serais instructs the following:
Mixed level yoga class. Options are offered for different levels. Beginners are better off in Gentle or Level 1.




A typical class begins with chanting, ends with singing, and in between features asana, pranayama, and meditation designed to create a specific outcome. Expect to encounter challenging breathing exercises, including the rapid pranayama known as Breath of Fire, mini-meditation, mantras, mudras (sealing gestures), and movement-oriented postures, often repeated for minutes, that will help you find and possibly surpass what you consider your edge, all to your current capacity. The focus is on lasting rather than going deep. Hatha yoga postures or asanas are secondary. No hands-on assists are given in Kundalini, and there are no levels such as introductory or advanced.




As taught by Yogi Bhajan, Kundalini is an ancient yoga system of exercise and meditation that promotes health, happiness and spiritual awareness. In Kudalini classes you are guided through kriyas -postures (asana), dynamic movement, sound current (mantra), breath (pranayama) and meditation. Open level; beginners welcome.




Your facilitator will guide you through a meditation that lasts for 30 minutes. Dive inside and calm the nervous system




Yoga Nidra is an ancient form of guided meditation that will take you into the deepest levels of relaxation while still remaining fully aware. The gong creates an elemental vibration that resets our magnetic field, allowing us to transcend the habitual energetic layers of the mind. This workshop includes mindful breathing and intention setting, yoga nidra, and gong relaxation.


$25 - please pre-register to guarantee a spot!