Kerri Gawreluk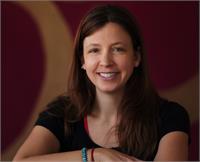 It was an innate curiosity plus a dash of on-the-job stress that led Kerri to her first yoga class many moons ago. Once through the door, it was love at first asana. Kerri credits her yoga practice with helping her open up to gratitude a little more, beat herself up a little less, and become more authentic in her teaching, relationships, and life in general. She is a certified yoga teacher in the ISHTA tradition as well as a Reiki master, and her classes are a creative, richly layered mix of movement and meditation that nurture the body and soul on many levels. She holds a separate certification in Prenatal yoga and has a passion and affinity for sharing yoga with families and kids of all ages. With equal parts whole-heartedness, humility and humor, Kerri's intention, as a teacher and fellow student, is to do her best to make sure everyone who crosses her path feels seen and supported, exactly where they are.
Kerri Gawreluk instructs the following:
Yoga for moms-to-be! Explore breathing and meditation techniques as well as poses suited to helping ease labor and birth. The prenatal class is designed for expectant mothers. Modified postures will help ease the discomforts that come along with pregnancy. Prepare for childbirth while releasing stress and the worries of pregnancy. Take time to develop a relationship with your baby. Permission from your OB/GYN caretaker is requested before attending




This class is for new caregivers and their babies 6 weeks of age or older, who are not yet crawling.

Stretch, bond, and breathe with your baby in this special yoga class designed for caregivers (mothers, fathers, adult relatives!) and their babies . Babies are natural yogis! Each class explores gentle yoga and massage techniques for babies which help aid in digestion, gas and colic relief, improved sleep patterns, and add in the development of fine and gross motor skills. We also incorporate partner poses and playful songs to help create a casual, comfortable bonding environment. Dress comfortably and bring a receiving blanket for your little one.




Mixed level yoga class. Options are offered for different levels. Beginners are better off in Gentle or Level 1.




Enjoy a 60 minute mixed-levels class and the best view in town! Class takes place on the deck of the Jacky Durrell Pavilion.




Enjoy the magical experience of practicing yoga under the rising full moon!

We meet down near the marina and volleyball nets at Jennings Beach.


Please arrive at least 15 minutes early so the class can start on time. Yoga mats don't work so well on the sand. Bring a big towel or sheet/blanket, water bottle, bug spray and any comforts you would like to bring. Bring layers to wear as it can get cool when the sun goes down.

$25.00 if paid in advance online or at the studio, $35.00 if paid at the beach (exact change or check required at the beach).